!- DEFAULT SHIZZ DON'T TOUCH UNLESS YOU KNOW WHAT YOU'RE DOING! ->


❝ Hello. I'm here to post pictures of Asian girls, fashion, cute things or whatever tickles my fancy. Sometimes, I will also post pictures edited by me. You can find them here.
I get them from various Japanese, Chinese and Korean sites.




I don't own any of the pictures posted here unless stated otherwise. They belong to their rightful authors.

Thanks for visiting/following~!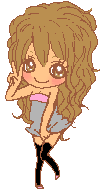 ←
3
4
5
6
7
→